As employers are experiencing more and more difficulties in finding skilled talent for specific roles, the need to differentiate themselves from competitors is becoming increasingly paramount.
The classic job posts, especially in Hong Kong, sound all too similar: starting with a very brief (if any!) description of a company's industry and mission, they concede with listing necessary skills for the role followed by future responsibilities and the prospect of free coffee.
In this jungle of bullet points and job titles, it is easy to forget what really counts: the joint vision a company is working towards, and the promise it is making to future employees. We're talking about your employer brand.
What is an employer brand?
In order to stand out as an employer, you'll have to define what makes you special and make a point about why talent should choose you as an employer over your competitor - while staying true to yourself and your company's strategy and vision. This process is called employer branding; in short, it is the activity to influence your employer brand. But what exactly does this mean?
The fact is, whether or not you have engaged in employer branding, you already do have an employer brand. It is defined as followed:
"Your employer brand describes people's perception of you as an employer."
This doesn't equal your organization's reputation as a business or product/ service provider. Rather, it reflects people's perceptions of yourself, including current employees, potential candidates, or the wider public. Through employer branding, you are actively building on, changing or leveraging your employer brand to hire strategically relevant talent for your company and business vision.
How do I define my employer brand?
1. Know who you are
Before you can get started on defining and possibly modifying your employer brand, you need to assess where you're standing at just now. Defining your status quo, understanding the perception both your employees and potential candidates have of you, and benchmarking your company against competitors will help you get a thorough picture of your current employer brand.
2. Have a vision
Now it is up to you to decide where you want to head to in the future. Employer branding should always be seen as a strategic process to continuously attract, convince and hire talent which is relevant to achieve your company's long term goals. Accordingly, goals should be set, and target groups have to be defined. Really make sure your hiring goals reflect your overall company objective and make sure to include relevant stakeholders in the process of defining your employer branding strategy. This will make it easier to stay on track and get the buy-in from decision makers later down the line.
3. Identify key talent
As soon as you've identified the talent you want to address, take the time to create persona-profiles and try to understand their interests, water holes (i.e. where they hang out online), goals, and possible objections to joining your company. This will help you develop an on-point communication strategy and will enable you to define - as a next step - an Employer Value Proposition that also resonates well with your target audience.
4. Find your EVP
An employer value proposition (EVP) describes your unique offer which employees get in return for their time and effort. Think of your EVP as the very core and unifying promise you use to align every communication campaign and employee experience measure your take.
Universum has identified five characteristics your EVP should have to be truly successful: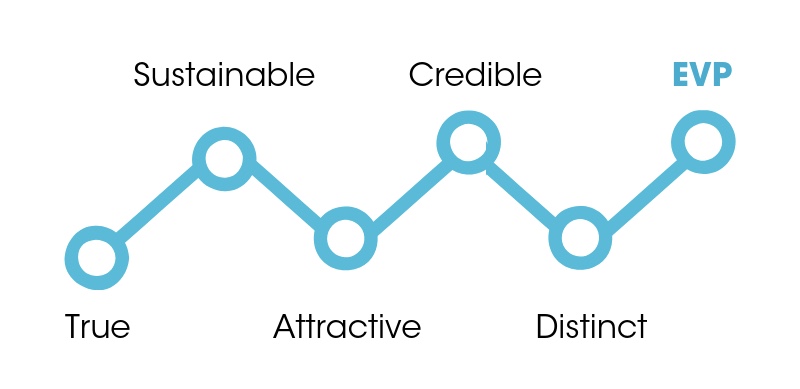 Ideally, your EVP has to be true, sustainable, attractive, credible and distinct. This reflects both the need to address your target audience and their goals/expectations, as well as the necessity to stay true to both reality and your future aspirations as an employer. Most importantly, you should find your own voice. Make sure that your message differentiates you from your competitors and don't copy generic statements or existing positioning.
Define, target and execute: Creating your employer branding strategy
Now you're all set up to get started with creating targeted campaigns and communicating your EVP to your target personas. Employer branding doesn't end there, though: rather, it should be seen as an overarching process of all people management, hiring, and recruiting marketing activities. A crucial point of employer branding is how your employees, current and future ones, perceive their workplace and you as an employer.
Can't wait to understand more? Let's have a chat!
Wantedly is a Tokyo-based startup founded in 2010, with the mission to create a world where work drives passion. We do this by connecting like-minded companies and talents based on passion and interest, rather than pay and benefits. We currently have over 30,000 companies onboard and 1.2-mil monthly active users in Japan, and recently launched in Singapore and now we are in Hong Kong!